The Company's management philosophy is "Through our JINUSHI BUSINESS, we create safe real estate financial products and fulfill our part in protecting the assets of people throughout the world." Under this philosophy, we aim to contribute to the realization of a sustainable society through our business activities. Furthermore, we recognize that considering ESG and continuing initiatives that consider related risks and opportunities are essential to improving shareholder value over the medium to long term.
The Company's unique real estate investment method JINUSHI BUSINESS is a real estate investment model that is resistant to natural disasters and has low environmental impact due to generating extremely small amounts of greenhouse gases, industrial waste, etc. In addition to supermarkets, home improvement stores, and other tenants that provide daily necessities in high demand by society, the Company also contributes to the revitalization of local society through the opening of facilities by tenants such as hospices, nursing homes, funeral halls, and other tenants that support social infrastructure.
Through JINUSHI Private REIT, Inc. (hereinafter, "JINUSHI REIT"), which began operation in 2017, we are providing real estate financial products that are expected to generate long-term and stable cash flow for many investors.
In February 2022, in conjunction with the formulation of our Medium-Term Management Plan, we established our ESG Policy and announced our ESG Roadmap. We are currently promoting various measures based on these frameworks.
In February 2023, we became the first listed real estate company in Japan to achieve carbon neutral (in-house emissions). We have also incorporated ESG clauses that encourage the installation of solar power generation systems and EV charging facilities into the fixed-term land lease agreements template with tenants, thereby supporting the introduction of environmentally-friendly facilities.
The Group aims to become a major landowner in Japan as JINUSHI REIT grows. Our social significance will grow together with the growth in our business. We will continue to actively work to solve environmental and social issues, and contribute to the realization of a sustainable society.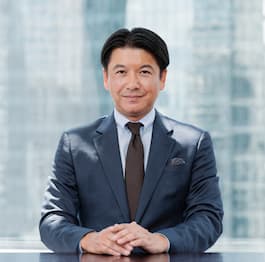 Representative Director and President
Teruaki Nishira